Popmoney®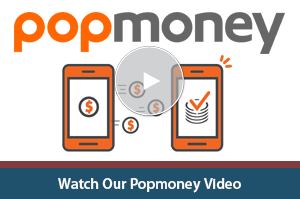 Email it.  Text it.
Pay people with Popmoney®.
No more checks or fumbling for cash.  With the Popmoney® personal payment service, sending, receiving or requesting money with just about anyone, no matter where they bank*, is safe and secure, quick and easy.
What it is
The Popmoney® personal payment service lets you send, and receive or request money from friends, family or just about anyone with an email address or mobile number*. Popmoney® is a part of our online bill pay service and lets you move money from your bank account to theirs safely and securely, with ease.  And Popmoney® is easy for your friends and family to use at their bank* or at Popmoney.com.
What you can use it for
Use Popmoney® for all sorts of things—here are just a few*:
Give a gift to family and friends
Collect rent from tenants or roommates
Send or request money for club dues, your sports team or a group vacation
Pay your dog walker or lawn care service
Send money to your child at college
Pay back friends for a fun outing, like a dinner or concert
* Terms and conditions apply.